The Gymnasium der Stadt Kerpen is starting a three-year European Education Project Erasmus+ with the title "The integration of minorities and the disadvantaged – Roma, Migrants, Refugees" with two other European schools, IES Tamogante in Santa Lucía de Tirajana, Gran Canaria (Spain) und das Vay Adám Gimnázium Baktalórántházi in Hungary.
The first preliminary talks took place in September 2015 on Gran Canaria.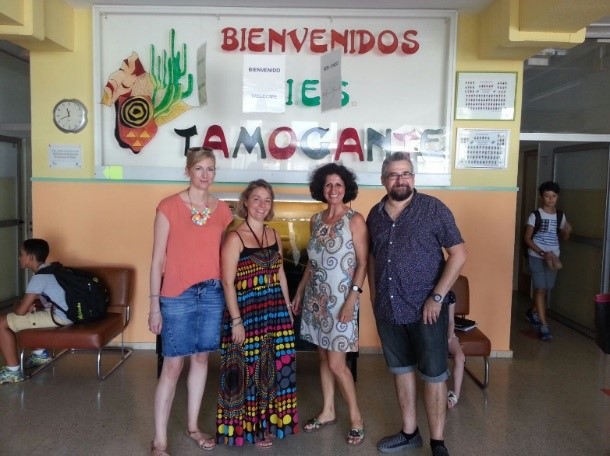 Minorities and disadvantaged people (also refugees) belong to the multicultural image of schools. Therefore, we consider the integration of minorities and disadvantaged people a relevant topic, especially at a time when not only European restructuring is being heralded, but racism and xenophobia have been reawakened as well.
We are striving to set an example against social exclusion and promote equity through the development of integration projects and the implementation of educational measures. In advancing sustainable projects, our main goal is enlightenment.
An important goal this project will be to encourage our pupils to participate in the restructuring of a new Europe and become competent in the development of sustainable project ideas as well as turning their attention to societal concerns.
Through these processes, we will bring about a sensitivity for minorities on a school, family, local and regional level (project homepage, Facebook, blog, Instagram) and contribute to expanding the project's sphere of influence on integration in school, workplace and society.
We expect the participation of the whole school, in addition to the parents and representatives of different institutions, i.e. the city, so that the sustainability of the project is ensured even after its termination.
DESCRIPTION OF THE ACTIVITIES
Review of existing projects with regard to sustainability and effectivity
Development of sustainable projects: integration, implementation, evaluation
Planning, implementation of a podium discussion
Assumption of the implementation tasks by the pupils, development of teaching materials (topics: racism, home country, flight), planning exchange visits and campaigns for sensitization towards minorities
Planning and conducting a tour in Hungary and presenting their projects
DESCRIPTION OF RESULTS AND EFFECTS / EXPECTATIONS OF LONG-TERM ADVANTAGES
Collection of sustainable integration projects for the advancement of integration; workshops in partner school for the development of durable integration projects in cooperation with cities and clubs
Implementation of intercultural elements in the school programme: establishment of an intercultural week / projects, intercultural encounters, long-term pupil mobility
Distribution of teaching materials (eTwinning / education server)
Increase of interest in schools to learn foreign languages, especially German
Experience of diversity as a chance to discover the potential in others and in new encounters.
Development and promotion of consciousness for a unified, open and engaged Europe in spite of current crises.